Technology, Modeling & Simulation, and Training (TMST) Consultants LLC continues to grow and offer a wide variety of services in business development, capture/proposal support, and technology & training fields for the Department of Defense. There are many factors and variables involved in pricing a winning bid for all types of Government solicitations. TMST Consultants can help you in the submission of a winning bid even if it's just providing an independent evaluation of pricing volumes before final RFP submission. In this article, we will present a wide range of solutions that TMST offers to the monetary side of the winning proposal.
TMST Consultants provides price to win (PTW) analysis along with pricing strategies. We aide our clients in an overall understating of military customers, market conditions, and competitive environments by identifying and analyzing client data, customer data, competitor data, environmental and locality factors, and industry benchmarks. As a result of this analysis, we offer several different levels of support:
- a high-level pricing summary to narrow down a percentage of win probability.
- a more in-depth role of leading all aspects of the pricing process from bottoms up and detailed top-down analysis starting with PTW to a full up and completed pricing volume.
- Researched and collated reports or proctored Black Hat Reviews and Competitive Analyses
- Or, anything around and in between
We feel it is important to use pricing and PTW analysis up-front to drive strategy, solution, approach, and reveal possible teaming opportunities to be successful early in the post RFP stage. If the client does forthright pricing analysis early on, then client leadership can make informed decisions as to whether to proceed or not. The hierarchy can also decide who it may team with to fill identified gaps or deficiencies, add advantageous cost centers, and negate the pricing edges of competitors.
A major event in such informed decision-making is Black Hat research and discussion to include competitor pricing analysis. The client may have a solution that is better than any competitor's. Still, if the client cannot provide that solution for a competitive price, conventional wisdom says that continued pursuit is futile. Something must be fixed to ensure pricing to win, a winning bid. TMST Consultants helps identify those fixes. The client must implement the fixes it deems appropriate. Figures 1 and 2 visualize a couple of examples of the PTW analysis we can provide.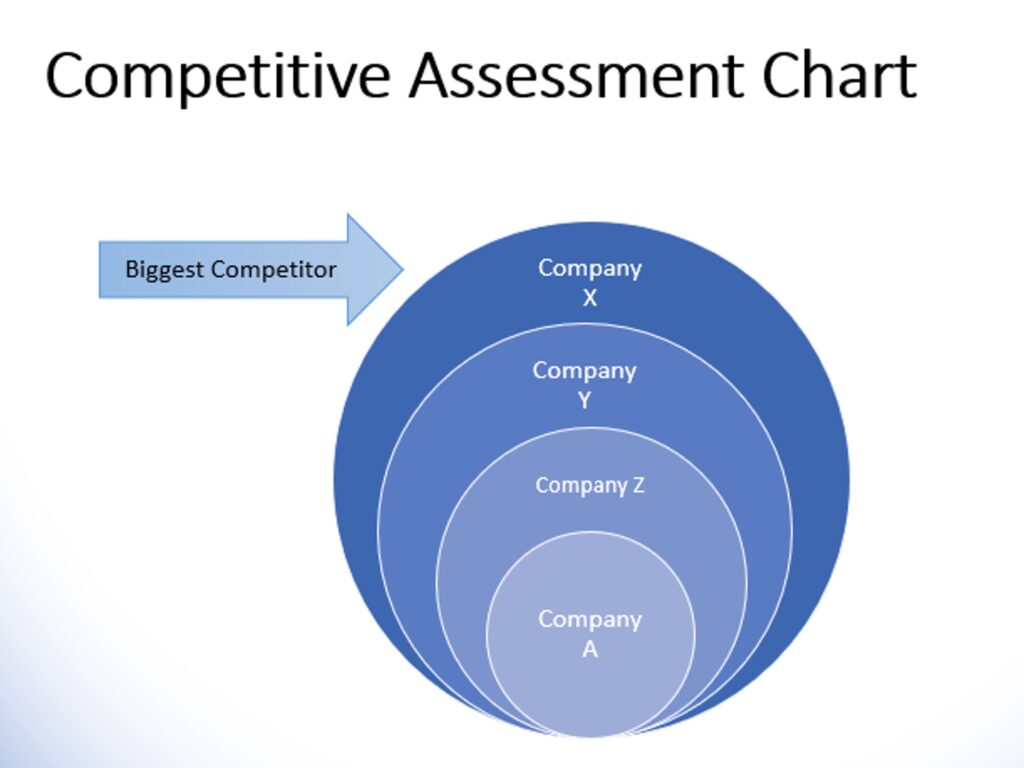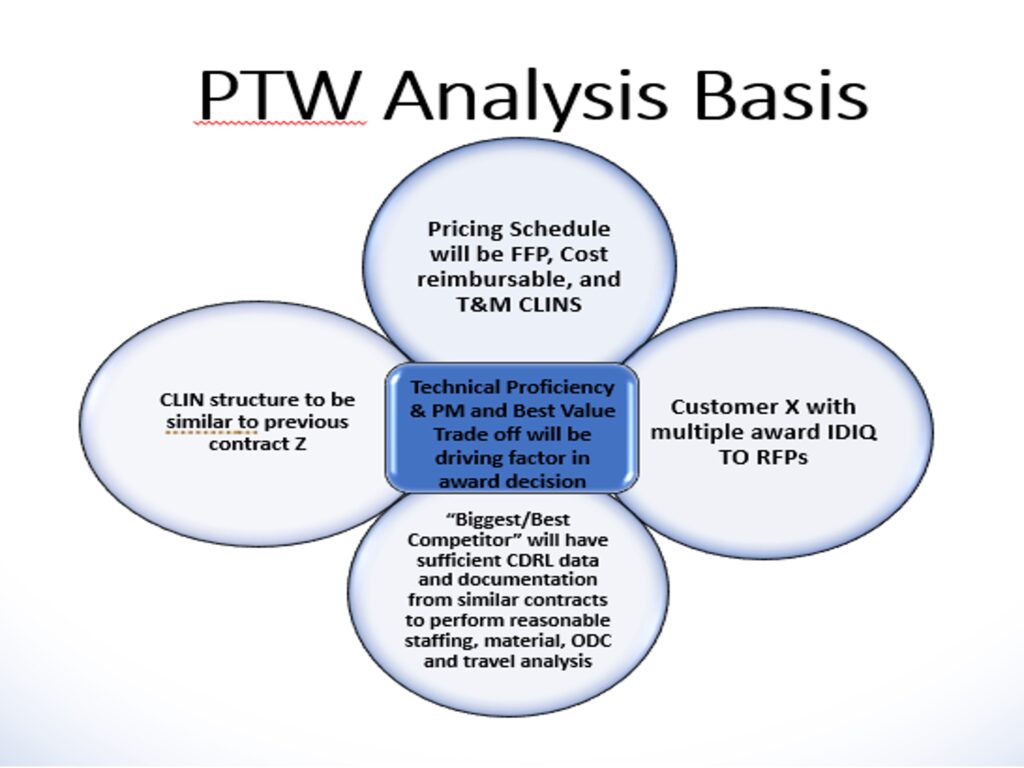 A key feature of our offering is a proprietary pricing model that performs various types of proposal pricing for large and small businesses within our expanding Proposal Management Support Office Division. For large companies, this is often an independent alternative to their internal pricing solution, part of an outside confirmation of cost realism. For other clients, it may be their entire base price to win.
TMST's proprietary pricing model handles various types of DoD contracts: Firm Fixed Price (FFP), Cost Plus, Time and Material (T&M), and Level of Effort (LOE) to name just the most common. However, TMST covers the uncommon, also. TMST's model has the flexibility to handle rapid-fire solicitations with quick turnaround times. Once the basis of estimate (BOE) elements and other direct costs (ODC) data are entered, its fully automated functions and macros can quickly calculate the total price from a summary level down to the lowest element of cost level. It also offers the option to display an Internal Profit Analysis profile, if the client so desires.
The model acts as the internal pricing template with full-rate disclosure for baseline purposes, original record retention, and government audit. It will depict a non-disclosed client/Gov't proposal submission free from full disclosure.
Some of the direct data input elements that the TMST Consultants Pricing SME will need to input include, General Information (i.e., solicitation number, date, proposal type, due date, description, etc.), Section L Pricing Requirements, Terms and Conditions with Assumptions, Labor BOE, Travel BOE, ODC BOE, Subcontractor BOE, Material BOE and Indirect Rate Table (Fringe, OH, G&A, Fee, Escalation, etc.)
The automated output of these direct inputs include: Price Cover Sheet, Contract Letter Submission, Summary by Contract Year Details, Summary by Phase (Phase-in, Training, etc.), Summary by Clin, FTE Summary, Burdened Labor Rate table by Contract Year and Internal Profitability Analysis (if requested). Pricing outputs are from the lowest level of cost to a summarized total Price.
We not only provide proposal support services post RFP, but we are also qualified to perform a variety of Program Management Office (PMO) functions after contract award. These services include financial analysis and tracking, program management, and contracts management.
Whether you need early high level-of-effort pricing support with long-range capture efforts and/or business development focused on competitively-reviewed pricing solutions and PTW analysis, or a lower level-of-effort post-RFP support in proposal pricing, pricing volume and color team reviews, or even post-award PMO support, TMST Consultants can help in a variety of financial and pricing support skillsets.